Snorkel Tour at Turtle Island – Morning 7:30am Arrival (QLD time)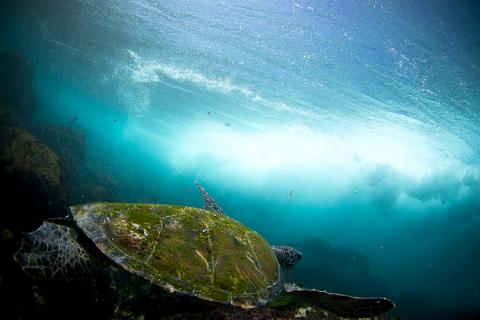 Duration: 5 Hours (approx.)
Location: Tweed Heads South, NSW
Product code: PF9AD4
From AUD
$85.00
Description
Snorkelling with the Turtles is just a 20 minute boat ride from Coolangatta/Tweed Heads. We snorkel out at Turtle Island (Cook Island Marine Reserve), which is a small protected island just off the Tweed coast.
This Island has a large resident population of sea turtles. Green turtles are abundant all year round, with the occasional loggerhead and hawksbill turtles also hanging around in this turtle sanctuary.
Turtle Island plays host to an abundance of tropical and sub-tropical fish species in the hundreds, including but not limited to anemone fish (NEMO), bullseyes, groupers, leatherjackers, parrotfish, pufferfish, surgeonfish, sweetlips and trevally. The island also has a mass of additional species, including brittle stars, flatworms, shrimps, nudibranchs and soft coral gardens with hard coral species also found out there.
You'll be provided with top quality snorkelling equipment, spring suits for summer and full length wetsuits for winter. For those who like a little extra buoyancy in the water, we have foam pool noodles. We also have view boards for those not so comfortable in the water or for the little snorkeler in your family!
Snorkelling is done off one of our two boats Whale Watcher or Nauti-Cat which tie up to moorings at the island, with the snorkelling area only a short 15-20 metre swim. There is a professional snorkel guide in the water with you at all times, and can answer any questions or provide extra assistance. The snorkel guide will give you a thorough briefing before you enter the water, and provide handy tips and techniques for first-time snorkelers. We are out at the Island for up to 2.5 hrs, in that time we normally do 2 snorkel tours coming back to the boat for a break in between.
You can return to the boat at any time for a rest or stay in for as long as you like.
Unfortunately we can't go onto the island as it is a breading ground for certain bird species.
This is a Half day tour, we get you to our store at 7:30am (QLD time) to get paperwork and equipment sorted. The boat leaves between 8:15 and 8:45, and returns by 12:00
Highlights of our trips

Knowledgeable friendly crew
Guided Snorkel out at the amazing Turtle Island (Cook Island)
Light morning Tea provided Tea, Coffee and Biscuits (fresh fruit in summer months)
Transfers available from southern Gold Coast and Tweed Heads area (Fees Apply) Please call to check if we pick up from your location (Hotels and resorts only) If staying in surfers paradise area we get you to catch public transport to bus stop near Coolangatta sands hostel and we can pick you up from there
TO ORGANISE A PICK UP PLEASE CALL OR EMAIL US TO ARRANGE BEFORE MAKING BOOKING!
What to bring
We recommend that everybody takes motion sickness tablets at least 1 hour before arrival (its better to take them as a precaution). Tablets can be purchased at a local chemist. We don't recommend ginger tablets
Please bring towel, swimmers and sunscreen etc
If you have any special dietary requirements please bring your own snacks and refreshments
Please bring your ticket for check in, if you have a smart phone we accept the emailed confirmation
Things to be aware of
We operate on QLD time
When making a booking this system secures your payment details and only takes money out on the day of the tour
No Refunds for cancellations with less than 24 hours notice, Those who give more than 24 hours notice are entitled to a full refund or transfer to another date
If you are late you may miss the trip resulting in your ticket being cancelled with No Refund, also if you arrive late and you are going to hold the trip up your ticket may also be cancelled with No Refund
There will be No Refunds for seasickness, bad visibility or if you choose not to partake on the snorkel tour
All Trips are weather and numbers dependant, the decision on if a trip will run due to weather is made on the morning of the trip, If we cancel a trip due to bad weather/unsuitable conditions or not enough numbers a Full refund will be given or transfer to another date. SKIPPERS DECISION IS FINAL! as your safety comes first!
PLEASE BE AWARE IF A TRIP IS CANCELED FOR ANY REASON WE WILL CONTACT YOU ON THE DETAILS YOU HAVE PROVIDED US WHEN MAKING THIS BOOKING. PLEASE MAKE SURE YOUR PHONE IS ON AND YOU ARE CONTACTABLE. IF YOU ARE NOT CONTACTABLE e.g.(you don't have a phone, or international number, email or Facebook isn't always checked) PLEASE CALL US THE DAY BEFORE OR BEFORE YOU LEAVE YOUR ACCOMMODATION!!!